The June Outstanding employee award ceremony
Share
publisher

Gavin
Issue Time

Aug 13,2016
Summary
China Guandong Dongguan Extrusion / Cold Forging / Die Casting Aluminum / Copper / Zinc Heatsink Manufacturer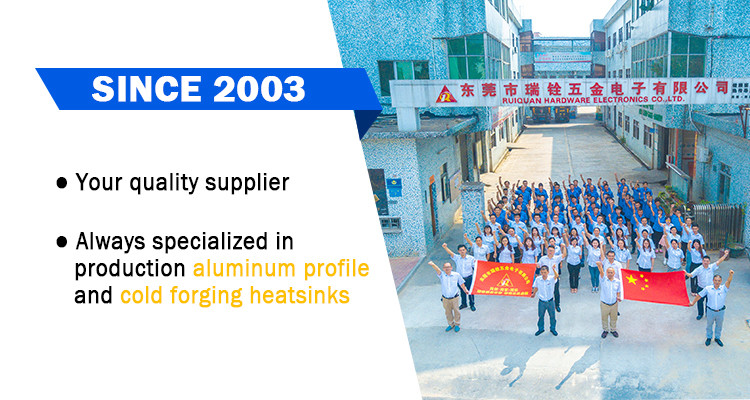 Dongguan Ruiquan hardware electronics co.,LTD is a professional and excellent manufacturer for copper and aluminumthermal conduction products . The main product ranges are profiles heat sinks , cold forging heat sinks, the cooling modules and many kinds of CNCprocessing copper and aluminum products as well . Since our company was foundedin 2003, we always insist the service tenet of "Meeting the customers"demand,continuousinnovation, reducing the heat ,decreasing the thermal resistance,improving the product quality.extending the life of product" for ourcustomers . We constantly recognized by our clients in the industry of IT,communication, lamp, industrial electronic and so on. High quality heatconduction accessories make our clients' product saving more energy ,more environmental protection, higher quality ,longer life.
Ruiquanhave many experienced technical and management experts in thermal conductionindustry. From products R&D , mold design, and mold fabrication to theproduct production( cold forging , CNC, CNC working center , cutting , crosscutting , punching , multi-spindle drilling, multiple spindle tapping, chamfer, stripe drawing , polishing , alkali wash , stramline drying , rivet pin ,silk-screen , packaging), and the surface treatment(electroplating , anodizing, passivation , powder coating , Electrophoresis )and transportation one-stepfull range of processing services .Also , our company have the most advancedaluminum cold forging equipment in 1500T, 1000T , 650T ,300T , and all kinds of15T-60T hydraulic punching machine and the ordinary punching machine .850 750series of CNC working center can make the product precision at accurate to0.001mm ,using automatic cross cutting machine , multiple spindle tappingmachine , multi-axial chamfering machine ,automatic fin stringing together machine, streamline drying …etc. of those automatic equipment can make our company has moreproduction efficiency and they are also the quality guarantee of our products.
Thequality of delivery and service of Ruiquan has wona very good reputation fromthe customers (for example, we were recongnized by our major companies whichare :weichuangli , xingxing , zhongyi ,zhengling , guangshanshuo , huati , shidafu , meigelang , yiheng , yujia, yuelin, xianma ),and rated as excellent supplier by customer many times .Our company has achieved thecertification of ISO9001-2008 from the quality management system , we have theprecision inspection and measuringaccuracy equipment which can achieve measurementprecision at 0.001mm(such as: 2D ,3D ,height gauge, dial indicator and so on ),and the reliability test equipment(such as:EDX3000 , environment spectrum tester , salt spray test machine ,roughness tester , gloss meter , torque tester , push pull meter and so on).
Ruiquanalways stick to go the path of common prosperity , development depending on employees' , development for the sake of employees , development resultsshared with employees , making all the family members of Ruiquan achieve highincome and let's build happy familytogether .